Some of us choose to reach for feeling better. Sometimes we may really feel lousy, out of sorts, down. Other times we may feel what some might call "sludge neutral," a state that is ok, normal life, the chores, the duties, the routines. Fine, whatever. Awakening, we know this is not actually happy, and we want to feel better.
Wait a minute! We start looking for things to appreciate and finding joy with that focus. "Yes, I like that birds are feeding in the yard. I bask in the sunshine! Where I shoveled, the pavement is dry due to melting! Some driveway is already dry! Very cool!"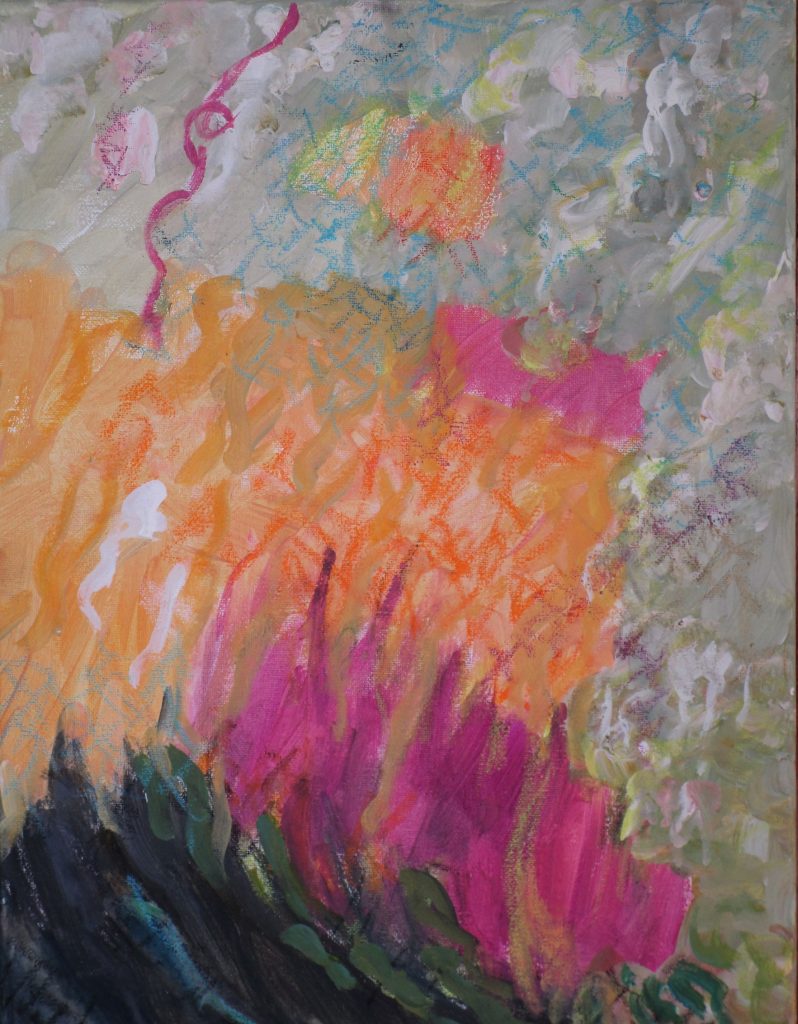 With the momentum of noticing Good, another phenomenon kicks in. Extra nice incidents pop into our awareness.
Examples
#1 Kayleigh sat to list appreciations and she got on a roll conjuring favorite flowers, times of extraordinary beauty in her gardens—she thought of gardens of other people she admired. Visions of flowers… These thoughts uplifted her to start her day.
And then when she went to pick her dally oracle card, she pulled the card "enter the garden of delight." No lie. She had not even known there was such a selection in the deck.
#2 Bess had been told there was a receptacle at the local supermarket to put extra grocery and plastic bags. Recently she had not had a good place to recycle those. She got organized and as she headed to the food store, brought a stash to deposit. As she walked across the parking lot to the entrance, right in front of her she noticed a man carrying plastic bags.
She'd been using this store at least weekly for a year now, and she never noticed those bringing recycling. That neighbor apparently was experienced at this, walking directly to the bin, one that was not particularly well marked or easy to find. Our heroine got an unexpected guide her right to it.
#3 Katerina had a bodily condition going on that slowed her down. The area experienced a snow storm. Usually K rallied and went out to clear her deck, steps and car: she did not hire someone to do it for her.
This time her neighbor cleared her car for her without a word. Our star looked out and amazingly it was brushed off and a path around its periphery shoveled.
He had never done that before, she had not said a word, but this time when she was lame, he offered this kindness. Angels in our midst?
#4 Tatiana watched YouTube on her flat screen tv( no cable). Many of her old favorites were currently not available. Instead of complaining about the selection, T kept scrolling and looking around.
As if magically, she would get a gut feeling to try this one and she got satisfaction! Something about the pictured face or title—she wanted easy story, uplifting and happy ending. People softening into receptivity, becoming more open and finding unexpected happiness. This viewer got her wish repeatedly.
#5 Lane was listening to a spiritual teacher talk about Jesus on a youtube excerpt. Meanwhile she shuffled her deck and readied to pull the card for the day. L pulled it: her mouth dropped open. It said "Jesus."
#6 Roxy played on a dating site and spied a reference in a fellow's profile to her study of material from Tony Robbins. R went on with her day. In a short time I her regular inbox, an ad from Tony Robbins appeared. Weird coincidence? 😊
As we practice this looking for what we like, more and more flows to us. We have so much fun noticing what shows up!
As you experiment with this, please share your list. Reading what delights you attract, delights us all! Please comment!
About the Author
Janet Pearlman is a spiritual teacher, counselor, healer and artist. In these posts composed of true stories, she inspires others to know themselves and compassionately to develop skills of empowerment. In her forty-five year journey of self-discovery, she has deeply studied the teachings of Abraham-Hicks, Ernest Holmes and more. Janet offers individual sessions by phone and in person. Please contact her at jpearl555@earthink.net to arrange an appointment.