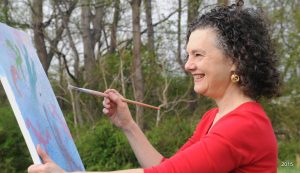 Blessed with gifted mentors since early adulthood, forty-three years later, Janet has created opportunities and life experiences that truly exemplify her personal mastery of living more present and awake. It is with full purpose that she uses the contrast of life's challenges to fuel expansion, happiness, and passion. Those who come into contact with her are beneficiaries of her compassion, humor and insight. All this along with deep skills of empathy, she has helped many move towards wellness and their own personal mastery.
These Stream of Yes pages reflect how she has translated these qualities through art, healing touch, and life skill coaching.
Janet's Past Professional Life in Public Policy 1977- 2009
For twenty five years Janet served in Massachusetts state human service agencies designing and running new programs for various agencies. In a significant stint as part of a small team Janet created and administered the first in the nation managed mental health and substance abuse program involving a Medicaid agency. Later at Medicaid, her work dramatically improved the availability of dental services for Medicaid members, alleviating a very challenging national policy issue. As a professional innovator she has spoken at conferences, acted as a national group facilitator and as a respected leader of program development teams.  Retired from state service in 2002, she consulted in the area of public health dental policy until 2009.
Janet Pearlman Paintings: Current Artist Statement
For most of us scenes of nature can evoke feelings of connection to relaxation and wholeness. When I paint landscapes, I reach for the power to touch others with this sweet resonance.  As I gaze upon the landscape, I tune into the beauty and vitality that arises.
Impulses flow; I put down color, stroke and mark.  Inside me it is as if an inner companion is whispering in my ear, directing my arm. I  listen, and I am inspired  for the next stroke, for how to improve the piece. I  paint, I rest, apply layers. I refocus, look and feel into each stage of the developing work. My painting process teaches me about living:  I am shown what to do, given what I need. So much magnificence is provided all around me, there to receive and celebrate.  A viewer recently put it this way, " Your work conveys… the reality that the world is a blend somehow of spirit and form, emotion and a place to live."  I want viewers to feel the beauty of the scene and perhaps find a sense of celebration.
Janet Pearlman began painting in 1977 when she was encouraged by Harry Holtzman, New York Times art critic, in serendipitous meetings.  From 1985- 2002 she was deeply influenced by two painters, studying with each for several years: Lena Marchi, abstract expressionist painter and printmaker in Massachusetts and with Carla Mattioli, exploring the artistic approach of Rudolph Steiner using watercolor on wet.  In February 2007 she returned to acrylics painted on textured surface, creating dreamscape-like pieces in soothing, lively colors, beginning what has been a period of consistent and prolific art creation.
 In 2012 she began painting landscapes, experimenting with form, color, depth. Further developing her craft in the spring of 2014 she studied plein air technique with Isabelle Abbot. Throughout the forty-three years of painting, she immersed herself in many and varied forms of inner development, developing her craft as an expression of this vibrant inner life with paint. Currently, she regularly shows pieces in the area and creates work in Crozet, VA.